Dutch Boy Painter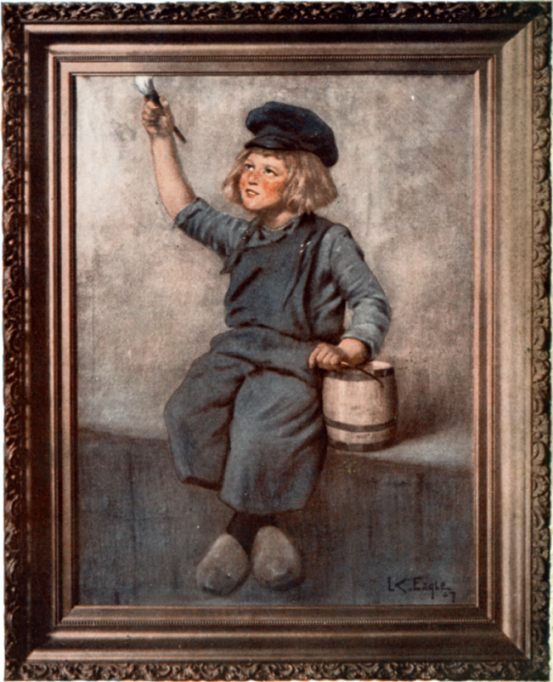 Title: Dutch Boy Painter
Media: Oil on Canvas
Signed: Lower Right
L C EARLE '07
About 1906, a consortium of white lead manufacturers, newly combined under the name of The National Lead Company, were looking for a symbol to unite them. As the finest white lead manufacturers, using what was called the "Dutch method" of processing, and also because the people of Holland had a worldwide reputation for keeping their homes immaculately white-washed, they decided upon a little Dutch boy. Artist Rudolf Yook, an illustrator of Dutch ancestry, came up with the initial sketches of a little boy dressed in overalls and carrying a paint bucket and brush. The finishing touches to the character came when the company commissioned noted artist Lawrence Carmichael Earle to paint an oil portrait of the Dutch boy. Earle used as his model a little Irish boy from his own neighborhood. He was nine years old and played ball in the street outside the home of the artist. That little boy grew up to become Michael E. Brady, a well-known political cartoon artist.*

He is the most recognized paint icon. The paint is based on a 16th century 'Dutch Process.' His likeness is based on Rembrandt's style.

Here is information on an article published in the March 1922 issue of The Dutch Boy Painter - A Magazine Devoted to the Interests of Good Painting. This article was published a few weeks after the death of the artist as a commemorative. The cover of the March 1922 issue is shown in full, here.
---
*Read article published March 1931 about the original model for this portrait "The Dutch Boy Was an Irish Boy"
---
Additional images of this painting:

"A Good Job"
Painters do their best work with pure White Lead
("Dutch Boy Painter" trade-mark).
Artist Signed: L. C. Earle.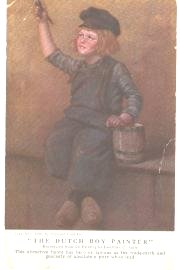 "The Dutch Boy Painter."
Reproduced from the oil painting
by Lawrence C. Earle
This attractive figure has become famous
as the trade-mark and guaranty of
absolutely pure white lead.
Copyright, 1906,
by National Lead Co.
Early Dutch Boy Paint Lead Paperweight.
"NATIONAL LEAD COMPANY,
PERFECTION ANTI-FRICTION METAL."
National Lead Company. Phoenix Metal.
Approx 3 1/2"
diameter.